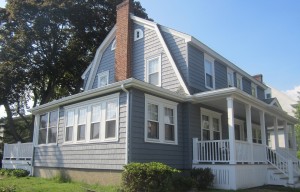 If the siding of your home is properly maintained, it should last for decades. However, there comes a time when it is necessary to replace your home's siding. Check out these signs for when you know it's time to replace your siding.
Holes and cracks on the side of your house is not an attractive sight, this is a major sign that your siding needs to be replaced. If not taken care, unwanted insects can enter your home as well as rain and snow.
Another very obvious sign that you need to replace the siding on your house is bubbling. Bubbles in the siding means that water has become trapped under the siding which is not good. One of the main purposes of siding is to keep moisture away from the walls of your home.
Throughout the years, your siding can start to develop serious dry rot issues. If you walk around the side of your house and tap on the surface of the siding you should be able to see if there are any weak spots of dry rot.
It may be time to replace your siding when you notice severe color fading. Vinyl siding can fade over a long period of time.
If moisture is able to enter through your siding, it can result in mold, fungus, and mildew. You should take care of this problem right away, it's important to make sure that doesn't mold spread.
If you're looking to install new siding on your home, contact Three Sons at 781-899-6353 or fill out our contact form online!