In this project, we replaced an old bay window with a brand-new vinyl one from Harvey Building Products. These Harvey Building Products Vinyl Bay Windows combine traditional style with the modern maintenance-free features of vinyl. They are also very customizable with the option to choose color, grid options, glazing and roof style to set your home apart from the rest. Harvey Bay Windows are finished with an insulated oak or birch veneer head and seat board, to ensure your new windows will provide you with elegance and functionality for years to come.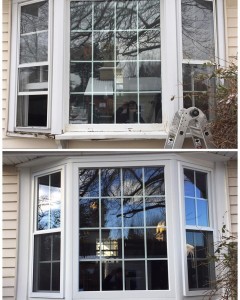 With Harvey Building Products, you can be sure you are not only receiving a great looking product, but also confidence and peace of mind from a company that stands behind every single of their products. For more than 45 years, Harvey Building Products has designed and built all their own windows right here in New England.
Three Sons Windows & Doors takes great pride in providing windows and doors that are long-lasting, attractive, and energy efficient, such as those from Harvey Building Products. Since 1994, we have maintained workmanship that meets or exceeds the quality of the windows we install. If you are a resident of Waltham, Newton, Boston, Cambridge, Somerville, Medford, or the surrounding MA area, give us a call to get started on your next home project.