Earlier this week, our team installed a brand new front entryway on this home in Acton, MA, using only the highest-quality Harvey Building Products. This homeowner chose to use Harvey Building Products because of the company's longstanding commitment to crafting custom-made doors, windows and porch enclosures. For more than five decades, Harvey Building Products has been helping contractors and builders create beautiful spaces for homeowners.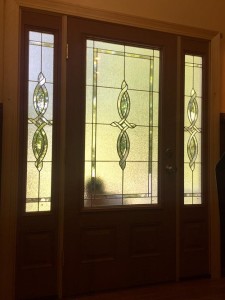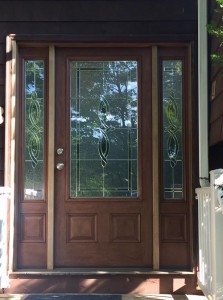 The front door is an opportunity for a home to make a statement to the outside world, and everybody wants their space to make a great impression. In addition to changing the look and feel of a house, installing a new front door can improve its security and increase energy efficiency. New doors are also more durable than older models, so they will look good longer.
This homeowner chose a door that is elegant and is aesthetically pleasing when viewed from both outside and inside the home. This particular style is a Therma-Tru door, which offers people a variety of potential styles to choose from when shopping. These doors are put together with handcrafted glass with designs that offer varying levels of privacy and light.
When choosing a new front door, there are a variety of aspects to consider aside from the style itself. A good front door will look good, cut down on overall energy costs, provide privacy to residents and last for years to come. For all of these reasons and more, we are proud to work with Harvey Building Products and install Therma-Tru doors during our projects.
For more information about our door installation services, or to request a free quote for a job, call the Three Sons Window & Door contractors at (781) 899-6353 or visit our website today. We proudly offer our door installation services to Massachusetts residents in or around Acton, Arlington, Medford, Malden, Woburn, Lexington, Somerville and Cambridge.