Our team recently finished up an incredible transformation of an entire home exterior in Wayland, MA. There were many contractors working on this project, each specializing in a specific aspect of the job. These aspects included fiber cement siding, door installation and new window installation.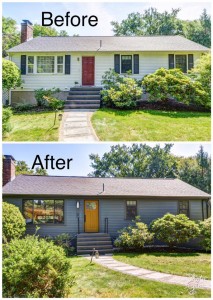 They installed one gorgeous style of Fiber Cement siding from James Hardie. While this is a bit different, it was an amazing experience to be able to give the client exactly what they were looking for. These James Hardie Siding was a "4-inch Exposure Hardie Plank Lap" which really gives the home a distinct look. On top of this, the color that was chosen was Iron Gray, which was the cherry on top of this exterior transformation.
James Hardie Fiber Cement is created with the utmost of craftsmanship, and the color "Iron Gray" really encapsulates this. With an International history of creating the most beautiful exterior products, James Hardie has some of the greatest consistency in the field. While this company has had over 100 years of experience with this product, the company really started to combine its efforts on 2012, and this collaboration has made them a leader in the field, being highly qualified, as well as successful in what they create.
While the vinyl siding is immaculate, we also installed new windows and a new front door to really tie the home all together. While being aesthetically pleasing, all of these different parts of a home act very functionally in a way they did not before. The windows, for example, are helpful no matter what season it is. In the summer time, they allow in the perfect amount of breeze when opened, and have an additional quality of letting the shining sunlight into a home. On the contrary, in the winter time, they keep heat in a home very well and do not allow in a draft.
We strive every day for the highest quality of workmanship, as it is very close to our hearts. That is what we strive for every day, whether it be a siding remodel or an entire home transformation.
If you would like to request a free quote or learn more about the work we can do for you, call the Three Sons Window & Door contractors at 781-899-6353 or visit our website today. We also extend our services to Massachusetts Residents in Lexington, Winchester, Malden, Arlington, Waltham, Somerville, Cambridge, Medford, & Woburn.