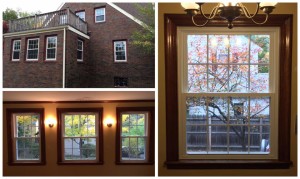 Earlier this month, our team installed 30 Harvey Building Products Classic windows in Newton, MA. The purpose of high-quality windows is to help keep the right temperature in your home, keeping the cold out in the winter and the heat out in the summer. Here are a few reasons on why should get your windows replaced before the winter and not wait for spring!
To save money on your energy bills this winter, you can invest in high quality windows. With new windows, it will help keep the temperature in your home controlled and regulated. It will also lower the cost of your heating bill because it will all the warm air indoors!
Your current windows now could be worn, damaged or poorly sealed and can result in serious damage to your home. If you don't update your windows before winter, snow, rain, or a leak in your window could cause serious water damage around your home.
Are you planning on hosting your relatives or guests over the holidays in the upcoming months? Getting replacement windows can help improve your curb appeal and increase the value of your home.
If your windows are outdated, they could contain lead paint, which is dangerous for both adults and children. Older windows can also develop mold and mildew that is caused by moisture buildup.
If you want your windows replaced before the winter months, contact Three Sons at 781-899-6353 for more information on our window installation services.