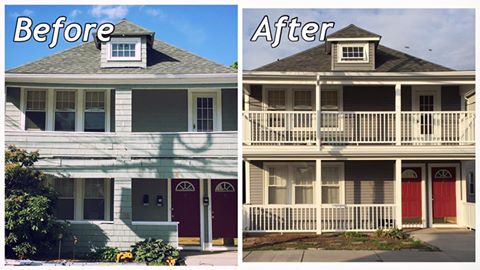 During the month of July, we recently completed a remodeling project for a home located in Watertown, Massachusetts. For this home project, we used CertainTeed Monogram vinyl siding in Charcoal Grey as well as AZEK Building Products Decking and Railings.
CertainTeed is a leading North American manufacturer that we have been working closely with for many years and have been in business for over 100 years. CertainTeed offers many choices in roofing, siding, and decking. We work closely with CertainTeed because they have high-quality products that are beautiful as well as durable.
CertainTeed offers a wide selection styles and colors both in their siding and their roofing products. Vinyl siding is practically maintenance-free so it will last for years and the CertainTeed shingles more durable and has more color depth than other roofing materials.
Three Sons Window & Door Inc is a CertainTeed Five Star Siding Contractor and a CertainTeed Select Roofing Contractor. We also offer extended warranties on our CertainTeed roofing.
If you are looking for high-quality roofing or siding materials and installation, contact Three Sons Window & Door at 781-899-6353 for more information!