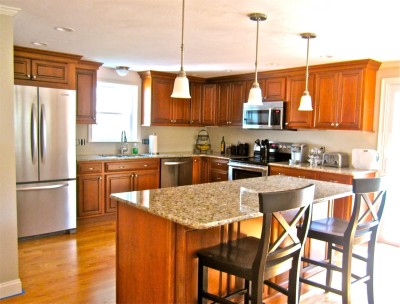 Three Sons Window & Door is a family owned and operated remodeling business. Paul Nutile and his son Robert work side by side, offering their clients more than 36 years of experience in the construction trade. Three Sons are dedicated to making your renovation plans a reality by providing you with comprehensive construction services at a reasonable price.
We work hard to ensure your satisfaction through superior customer service, craftsmanship, and products.
We are fully licensed and insured.
We adhere to the highest industry standards.
We only employ experienced, skilled, and courteous staff members.
---
We listen to our customer's wants and needs because our goal is your satisfaction. We understand that remodeling your home is a huge undertaking and we want to make that process go as smoothly as possible. With our years of experience and our commitment to completing your project in a way that we are both happy with, we hope to take your worries away. We offer a wide variety of services to our clients and oversee every phase of the project from start to finish. Our services include Windows, Doors, Siding, Roofing, Remodels including Custom Additions, Kitchens, Baths and Painting.
Three Sons Window & Door also offers a multitude of products to our customers. Every project is unique and therefore, we guide our clients in selecting the best product for their project. We would not recommend any product we wouldn't use on our own homes, which is why we offer quality products that fit all different tastes, needs, and budgets. We also offer Green products for customers that are looking for more energy efficient options in their home.
Three Sons Window & Door is a fully licensed and insured construction company that adheres to the highest industry standards. Our employees are all experienced, skilled, and courteous staff members. We hold Massachusetts Home Improvement Contractor's License, Massachusetts Construction Supervisor's License, and Liability and Worker's Compensation Insurance. We want our customers to stay our customers for years to come and ensure to fully exceed expectations of a remodeling business. We strive to earn your trust by performing at the highest level in our industry. Contact us for FREE quote today!